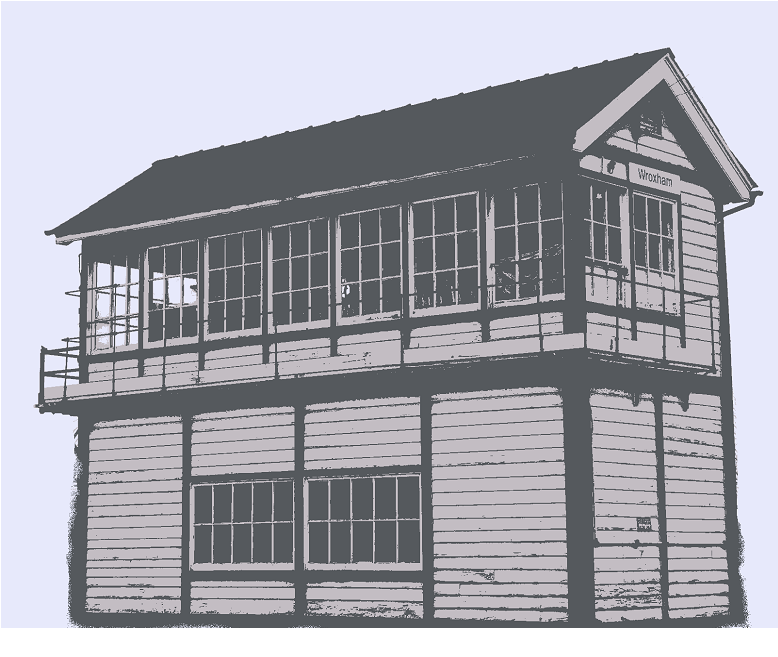 The safe running of railways relies on signalling, and the operation of points, which together regulate the movement of trains and prevent collisions and accidents. Using the block system the line was split into sections (or blocks) between signalboxes and only one train was allowed on each section at any one time.
A signalbox allowed one person to operate the signals and points, of a section, using levers grouped together in a frame. To prevent mistakes the levers were'interlocked' so that it was physically impossible to set trains on a collision course.
Wroxham signalbox was built in 1900 by McKenzie and Holland to a Great Eastern Railway design - Type 7. It has 50 levers which the signalman used to set the points and signals to operate that section of the line. It had some basic home comforts - a table, chair, desk, a toilet and most important the stove which was kept ticking over in the cooler weather with buckets of coal from a basic supply but always supplemented by lumps from passing engines.
The heyday of Wroxham signalbox was in the 1900s which is the era we have tried to replicate. By the 1950s some of the sidings had been taken out and in1967 the line was made single track to North Walsham. The Aylsham branch line closed in 1983 and the goods yard around 2005.
The box was finally closed in 2000 - redundant due to the installation of modern signalling and was to be demolished as it was blocking the drivers' view of the new signals. Instead, it was listed and moved just six metres, to its current position. Wroxham Signalbox Trust was formed in 2002 with the aim of restoring, preserving and opening the listed box to the public as a working museum.